Egg: Minute yellow coloured eggs laid singly or in groups on the upper surface of leaves
Larva: Pale yellowish green caterpillar
Pupa: Pupation takes place on the foliage in a transparent cocoon
Adult: Small greyish brown moth. Forewings have three white triangular spots along the inner-margin. Adult folds the wings that appear with triangular markings, opposite wing with diamond shape.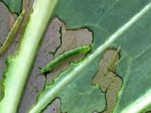 Egg: Yellow shiny eggs laid on the leaves
Larva: Full grown larva are greyish-yellow with seven purplish brown longitudinal stripes
Adult: Pale greyish brown moth with wavy grey markings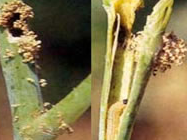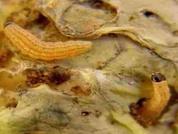 Egg: laid in groups under surface of leaves.
Pupa: pupation takes place within the webbed up leaves
Adult: Forewings having distinct wavy lines and prominent wavy spots. Hind wings are semi hyaline colour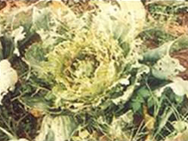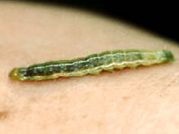 Egg: Greenish-white, spherical and sculptured eggs laid singly on ventral surface of leaves
Larva: Slender and green in colour with light wavy lines
Adult: Stout, brown moth, head and thorax grey in colour, abdomen white. Forewings grey wavy in colour with a slendery-marking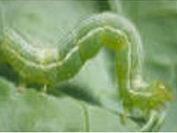 Egg: Masses appear golden brown
Larva: Young caterpillars are light green with black head or black spots. Well grown caterpillars are grey or dark brown
Adult: Adult moths are brownish colour. Forewings are brown colour with wavy white marking, Hindwings are white colour with brown patchs along the margin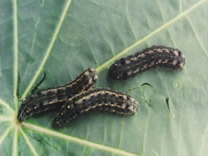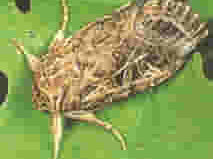 Larva: Velvetty bluish green in colour with black dots, Yellow dorsal and lateral stripes covered with white hairs.
Pupa: chrysalis which takes place in leaves and stem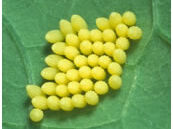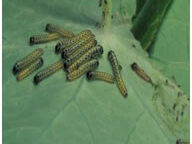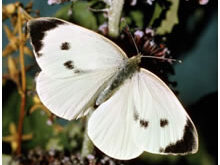 Nymphs and adults yellowish green with wavy white filament over the body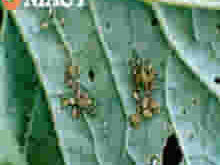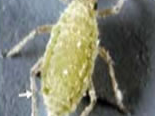 Aphids: Small, soft-bodied, pearl-shaped insects