Female beetle scoops out shallow holes on growing bud, leaf, petiole, terminal buds, spikes and tender berries and lay eggs singly.
Freshly laid eggs are yellow and turn brownish yellow.
Grubs: Pale yellowish in colour.
Pupa: Pupation takes place in the soil in an earthen cell
Adult: Beetle is oblong with shiny black elytra and enlarged hind femur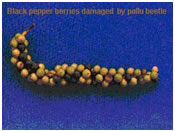 Larva: The full grown caterpillar is greyish green in colour.
Pupa: Pupation takes place inside the shoots within the tunnel.
Forewing: The basal half of is black and distal half is red.
Hind wings: Greyish in colour
Eggs: Laid within the marginal galls on the leaf surface singly.
Nymphs: White and sluggish.
Lepidosaphes piperis : small, stunted with boat shaped appearance
Espidiotus testructar: very small insect with yellowish in colur

Female is apterous with long prominent waxy filaments at the posterior end
Body covered with waxy powder.