Eggs: Pale yellow in colour.
Undergoes various changes of colour pattern.
Grown up caterpillar are shaded with deep yellow on sides.
The upper side of adult is rich velvety brown.
Forewing: The upper side has marginal series of spots and terminal series of spots between the veins.
Hind Wing: The upper side bears a series of long arrow shaped streaks, yellow and white spots between the veins.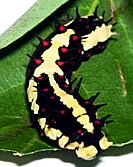 The larvae are pale gray initially and later become pink.
The adult is a minute silvery gray moth.