Larva is dark brown with red coloured head.
Adult – brown in colour and dark colour spots on the wings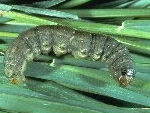 Adult: yellowish green rarely reddish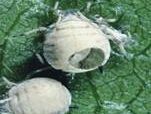 Larva is greenish with dark brown grey lines along the sides of body.
Adult moth is medium size; brown with 'V' shaped speck and dull black border on the hindwing.